We are qualified professionals who have taught hundreds of students to fly. We have flown thousands of tandem flights, bringing happiness and smiles to the faces of people of all ages.
Each and everyone of the pilots in our team have been flying in the Vall d'Ager for over 18 years and know perfectly this valley and its flight conditions, and even though we are from different parts of Spain, we consider this valley our home.
We are in love with flying and we want to share that passion with you.
Ager Parapent meets the conditions set out in Article 3.4 of Decree 56/2003 of 20 February (DOCG 3838) and appears in the census of organizers of physical sporting activities in the natural environment with the census number C-357. ®Àger Parapent is a registered trademark. All rights reserved.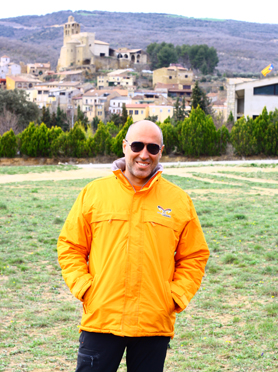 MARIO BEA
He is the director of Ager Parapent. Tandem pilot, paragliding instructor and competition paragliding pilot certified by the 'Escola Catalana de l'Esport Generalitat de Catalunya' and the 'Federació Aèria Catalana'. 14 years experience as an instructor and tandem pilot in Catalan and Spanish paragliding schools.
Mario has been flying since 1999 and has travelled and flown at the most popular flying areas in Spain and rest of Europe. He is a cheerful, friendly guy and of course, extremely professional. He spends more time in the air than on the ground.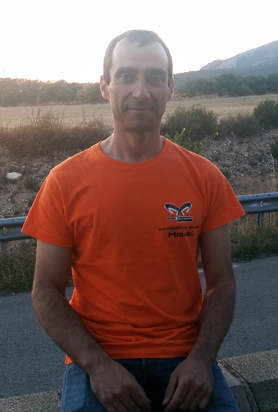 MIQUEL MONLLAU
He is a competition paraglider pilot and teacher since 1998 and two-seater glider pilot since 2000. Since 2001 he is also a paramotor pilot. He has worked as a teacher for all kinds of skill levels between 2000 and 2007.
Paragliding instructor authorized by the "Escola Catalana de l'Esport" (Generalitat de Catalunya) and "Federació Aèria Catalana".
SIV Instructor (Simulation of Flight Incidents) since 2004.
In 2006 he was a Test Pilot for the new CEN normative for Aérotests, under the FFVL Organization (French Federation of Free Flight), responsible for the approval of paragliders.
He has collaborated on several filmings flying with paramotor and has experience with D-Bag jumping. He is our pilot expert in paramotor flying.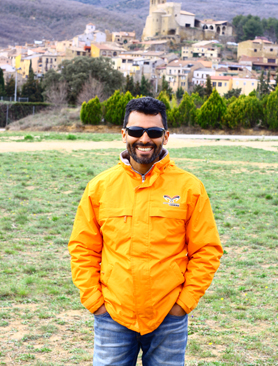 ANTONIO GARCÍA
Tandem pilot, paragliding instructor pilot certified by the Escola Catalana de l'Esport Generalitat de Catalunya and the Federació Aèria Catalana. 10 years of experience as an instructor and tandem pilot in several Catalan and Aragonese schools. Enric took his first steps as a free flight glider pilot back in 1999. He has a very nice and friendly carácter and he is a great professional in his field.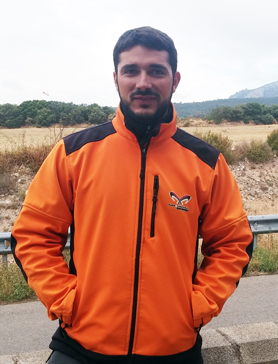 ADRIÁN PLAZA
Adrian began paragliding 15 years ago being only 15 years old and since then he hasn't stopped flying. Today he is a paramotor, hang gliding and paragliding instructor authorized by the Madrid Air Federation. He has worked for different schools in Tenerife, Aragon and Catalonia. In 2008 he began making his first "steps" with acrobatics. In 2015 and 2016 he took part in the Spanish Championship of Acrobatic Paragliding as a judge. As a great lover of flying he has organized several paragliding and paramotor events with national repercussion. He is a great guy with great organizational skills and very friendly. He is the youngest pilot from the group and is always playing pranks on all of us. We are delighted that he is part of our team!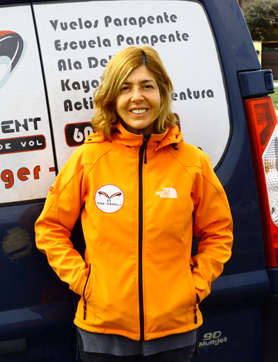 CRISTINA BLAS
She is our public relations and takes care of guiding everyone on the right track. It also performs all administrative tasks of the company, customer service and ensures that everything goes smoothly.
She has been flying since 1999 as a pilot in a single-seat paraglide, although with all the work that she has, she doesn't fly as much as she would like. She has an open personality, is very friendly and likes to please everyone.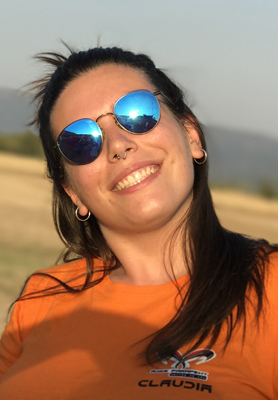 CLAUDIA LATORRE
She is the youngest of the group. Flies in a single-seat paraglide since 2012 and helps us in office tasks and in everything that we need. She always has a smile for everyone.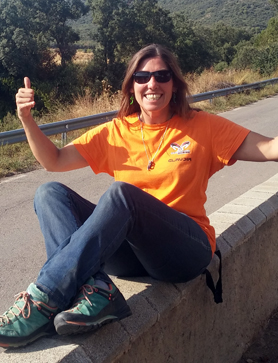 BEA GARCÍA
She is a tandem pilot, competition pilot and paragliding instructor authorized by the Escola Catalana de l'Esport de la Generalitat de Catalunya and the Federació Aèria Catalana.
This is a summary of her sporting achievements: Champion of Spain in 2001, 2004, 2005 and 2007 / National League Champion in 2003, 2004 and 2005 / Runner-up of España Biplaza Piedrahita 2012.
5th woman in the 2007 US National / 3rd classified in the Women's Open 2010 / 1st position overall in the Championship of "Rockyman 2012" (Brazil).
11th Women in the Portugal's World Cup 2003 / 7th women in Greece's European Championship 2004 / 10th woman in the World Cup of Brazil in 2005 / 3rd in the overall classification of the Open Ibérico 2005 / And female champion in the Open Iberico 2005.
Bea is the only female pilot in Spain which has so far won an inning in a World Championship: In Brazil (Governador Valadares, 2005).
In 2016 she won the women's acrobatics championship held in the Valle de Tena.
If we have to highlight something from Bea, in addition to her professionalism and her skill as a paraglider pilot it's her sympathy and that fantastic smile that she's always giving us all.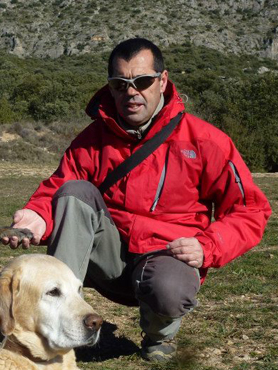 GUSTAVO PÉREZ
Instructor responsible for teaching all the paragliding courses, he has been teaching flying since 1988.
WE ARE FANATICAL ABOUT FLYING!