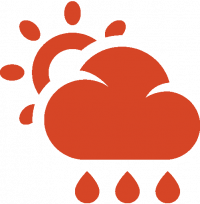 Paragliding is an activity that is totally dependent on the weather, which forces us to be looking at the sky all the time. To try to foresee what will happen we have predictions made by meteorologists, although it is true that meteorology is far from an exact science.
In our case, considering the tools at our disposal, we try to make an assessment of the weather conditions 24 hours before each day's flight so we can avoid unnecessary travelling to our customers in situations where unfavorable weather is likely and prevents us from flying. If the conditions are not right to fly safely we will not do it in any case.

We can fly perfectly both on sunny days and cloudy days, with colder or warmer weather. Every variable has its charm, there are not two flights alike.